Basingstoke Andover District Orienteers
- the orienteering club for North Hampshire

Butter Wood SCOL7 event Sunday 29th April
Result: Weather 2 BADO 0

Many thanks to those who donated their entry fees. The final figures are:
| | |
| --- | --- |
| Income | £2044.00 |
| Refunds | -£349.10 |
| Fabian | -£213.04 |
| Maps | -£264.00 |
| Officials & equipment | -£40.00 |
| Toilets | -£198.00 |
| Balance | £979.86 |


The club will therefore give £250 to the Landowner's registered charity and £730 to the SCOA Junior Squad.
Pamber Forest SCOL2
Results and RouteGadget are now available.
We hope you enjoyed the event on a lovely day; this grass snake was basking in the early morning sun and had to be rescued from the parking field.


£128 was collected in parking fees and will be donated to St. Michael's Hospice on behalf of the field's owner.

After the event, SCOA Chair Di Smith presented the awards for the 2016/7 SCOA League, including BADO members Bev Hall (2nd, Light Green), Andy MacGregor (1st, Short Green), and Alan Kersley (2nd, Green).
Wedding Congratulations
Many congratulations to BADO members Jo Ludford and Jon Robinson on their marriage.
SCOA Champs 2017
Some notable performances at Hambledon in the 2017 SCOA Championships:
Craig Blackford - 3rd, M45
Roy Heselden - 2nd, M70
Andy Mac-gregor - 1st, M75
Katie Blackford - 1st, W20
Chris Smith - 2nd, W70
SCOA 2016 Championships
Congratulations to: Andy Mac-gregor (M75 gold), Serena Ludford (W50 silver) and Alan Kersley (M55 bronze).
Greenham Common Weekend - results
Maze results. The main Results Page is on the BKO website.
Moonraker Relay success
Well done team "BAD NEWS" for winning SARUM's Moonraker Relay at Moot, Salisbury on 21st August. The team of Mike Frizzell, Craig Blackford and Charlie Gook beat some strong opposition to win.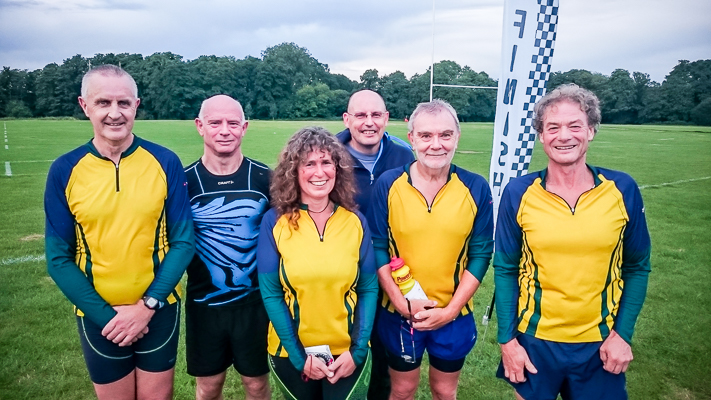 SCOA League 2016
This season's SCOA League is now complete. Well done these BADO members who placed in the top six:
Andy Mac-gregor, 1st, Short Green
Alan Kersley, 4th, Green
Ed Willcox, 5th, Brown
Pen Wood Results - Sunday 8th May
The Pen Wood results are now available.
RouteGadget added - sorry for the delay.
The event made a profit of £518.72 and BADO are also donating a "windfall" of £95.83; so altogether that's £614.55 for the SCOA Junior Squad.
Special thanks to Nigel Benham of BML Printers, and Allan Farrington of EMIT UK, for generous discounts for the event.
Nigel Benham's ride for the British Heart Foundation
Nigel Benham is the MD of BML Printers, who produce all the maps for BADO (and many other clubs). Now recovered from a quadruple heart bypass, Nigel is cycling 100 miles to raise money for the British Heart Foundation.
BADO have donated £50 on members' behalf, but further contributions can be made at Nigel's Just Giving page.
---
SCOA League Winners
Craig Blackford and Eleanor Davey receive their SCOA League 2015 trophies.
British Champs 2015
Some good news from the Forest of Dean - medal positions for Katie Blackford (1st on W18L) and Andy Mac-gregor (2nd on M75L), and also good performances by Tony Ludford (6th on M70L) and John Harrison (14th on M65L).
---
SCOA Championships 2015
Several BADO members achieved "podium places" at the SCOA Champs at Sidbury Hill. Congratulations to:
Mike Frizzell, 1st M55
Katie Blackford, 1st W20
Andy Mac-gregor, 1st M75
Tony Ludford, 2nd M70
Charlie Gook, 2nd M45
Chris Smith, 2nd W70
John Harrison, 3rd M65
---
Southern Championships 2015
Well done Andy Mac-gregor, who won the M75 class at Sheepleas & White Downs in the Surrey Hills
---
Southern Nights Champions
Home territory suited Katie Blackford who won W18, and Tony Ludford who won M70. Congratulations to both and an honourable mention to John Harrison who was second in M65.
Veteran Home Internationals
Dave Watkins reports: I had a great time at the VHI event in the Forest of Dean this weekend.
The Forest of Dean is a wonderful area with terrain not too dissimilar to what we are used to in parts of SCOA region.
It was a real honour to be selected by Wales but I was extremely nervous having to compete against some of the best in the UK. Not only that but I was asked to run up an age class in M50 rather than my actual M55.
This meant running 7.6k with 290m climb on a short brown length course which was being used for both the M45 and M50 VHI classes. So I was delighted to find I had not only finished in a decent time but had also beaten an Irishman, a fellow Welshman and a Scot who was ranked 305 on the BOF rankings.

The three-person relay event on the Sunday was held in steep coniferous woodland with plenty of charcoal burning platforms and small depressions and I was asked to run a long leg of 4.3k. Out of 32 runners on the same distance I came 16th out of 32 runners, so very pleased with that.

England won the overall event quite easily from Scotland, with Wales beating Ireland quite convincingly to retain the Stonewall Trophy, the prize for the winning team out of Wales and Ireland.
---
Success for Tony Ludford in Spain
Serena and Tony Ludford participated in the "II International Event Diputación de Palencia" in the mountains of northern Spain. It's a five day event held in August every five years with excellent terrain, good contour detail and lots of boulders and crags. Every evening there is an "antiofficial" event; sprint, micro-O, maze or mobile phone-O.
Tony is holding an ORCA, which was given to all prize-winners. He says "It proves I had a whale of a time".
Serena had a 4th and a 7th place in a big field of competitors
Basing Wood event featured in the Gazette
A report of our Come-and-try-it event back in June has finally appeared in the Basingstoke Gazette
Relay Successes
BADO teams did well at two recent summer Relay events, winning the Moonraker Trophy and coming second at the Furrowhoppers.
---
Istanbul 5-day event - report
"Just a quick report on the success of BADO members at the Istanbul 5 Days last week. Competing against Norwegians, Swedes, Danes, Finns, Germans, Swiss, Bulgarians and a host of Russians, two Silver medals were won.
In the main event of 4 days, John Harrison was 2nd in the M65 class.

The fifth day was a Sprint in the Grand Bazaar. It was extremely technical, including controls at different levels using control circles of different colours and for good measure a maze is included, and Serena Ludford achieved 2nd place in the W45 class.

In all, a great achievement for the club.

I should have got a Silver in the Sprint - perfect navigation to controls and good speed. However I kept being caught by the planning and taking controls in the wrong order. I redid some twice and my time would still have been OK, but I also mispunched in the maze. They said. My course had the highest number of mispunches so I am suspicious of SI. But if I had checked control numbers off in order I would not have gone wrong. I used the red lines to indicate the next control, but this did not work in all cases. Serena checked meticulously and it worked.

I can recommend the Istanbul event. The organisation arranges transport to competitions with coaches and boats (one day was on an island in The Sea of Marmara), Hotels are cheap in the centre of the historic old city with famous mosques and bazaars, and there is time for sightseeing. Flights are by BA and Turkish Airlines to Ataturk Airport."

Tony Ludford
---